Here in Texas it's felt like spring for the past month! But... the season of spring officially started this week. I'll admit, spring isn't my most favorite season, but the sunshine and flip flop weather sure are nice.
In honor of spring, I am sharing a kids craft with you. I get our crafts from four places--either an idea that popped into my head, store bought ones from a craft store, blogs that I follow, or an internet search. There are tons of ideas out there! There should never be reason why you don't have a craft for your little ones!
Little Man and I did this craft two years ago (before blogging), so I don't have a picture of it. However, the place where I got it from has a picture and directions for you! I got it at
Busy Bee Kids Crafts
. This website had lots and lots of fun and cute kids crafts.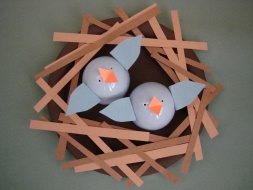 Is that not the cutest thing ever? I'll admit, the one Little Man made didn't turn out quite as cute, but it still was adorable (and 3 year old made). You can follow the link to get the directions and find other fun crafts for your kiddos.