'Tis the season for buying gifts, right? Amongst the list of people to buy for is usually your child's teacher. Even if they aren't in school yet, they may have a teacher of sorts. People buy for day care teachers, preschool teachers, and even Sunday School teachers. Of course, you never
have
to buy for a teacher, but it sure is nice. Especially the ones that are investing in your child's life for a good amount of time each week.
During the years I have been blogging and reading other people's blogs, I have come across my fair share of "teacher" ideas. Let me tell you... most of them aren't that great of an idea. So I thought I'd lend my expertise for anyone who needs to buy a teacher a present this Christmas.
DO
Do think of something meaningful. Maybe you don't want to spend a lot of money on a teacher gift. Or maybe you don't have money to spend right now. Volunteer your time. You can do this even if you work. I had many working moms that helped me out. Some would grade papers for me. Some would cut things out for me. It doesn't mean you have to be
in the classroom.
If you aren't comfortable with that, write a letter or a card. Really share your heart. I have been blessed with some wonderful and heartfelt letters and cards over the years. One of the best ones I was given was from a dad. I have kept it to this day.
DON'T
Don't assume that because someone is a teacher they love apple decor. I don't want apple erasers, apple stress balls (do people actually use those to relieve stress?), apple towels, apple nick knacks or any other such apple nonsense. Your child's teacher will most likely not want it either. (Unless you notice she has an apple fetish).
DO
Do be thoughtful. Really, it's better to get
nothing
from a student then to just get
crap
for the sake of sending in a gift. (I am not talking about the poor inner city student who can't afford anything and brings in his teacher a gift of a used candle that came from the heart. I'm talking about an average income family that just skimps.) Give something you would like to receive.
DON'T
DO NOT give body gel and/or lotion. Seriously. First, because people have very particular opinions on what scents they like. Second, because
everyone else is giving the same thing.
Honestly, I actually like Bath and Body Works, and luckily they will exchange scents if you get something nasty. However, I had more lotion and body sprays and shower gels than a person could ever use. Think outside the box.
DO
Do find out what type of things your teacher likes. Some of my favorite gifts were the spontaneous drop offs of my favorite coffee, or the offer to pick up lunch and bring by right before lunch time. How much does that cost? $4 for a good coffee? $6 to go through Cane's chicken. I'm not asking you to break the bank.
DON'T
Don't ever buy a teacher a teacher related clothing item. Honestly, one year (when I was 25, mind you) I actually got a Christmas sweater with kids sledding down a hill and a school house and a snowman on it. Are you kidding me? First of all, there are very few clothing items out there that are teacher related that look cute. Second of all, you run the risk of getting the wrong size. Third, a 25 year old is not going to wear a Christmas sledding sweater. Ever.
DO
Do think about giving gift cards. It really is the most wanted gift from any teacher I've ever talked to. I know sometimes it seems "impersonal", but it allows the receiver to choose. Again, you don't have to spend a ton. I've gotten $5 gift cards to places like McDonald's all the way up to $50 to Kohl's or a nice restaurant. I've also received cash. I know some aren't comfortable with giving that gift, but I can guarantee that when I opened the card to a $50 bill I was thrilled!
DON'T
Don't give coffee mugs. Really. Teacher's have enough coffee mugs. How many mugs could one person use?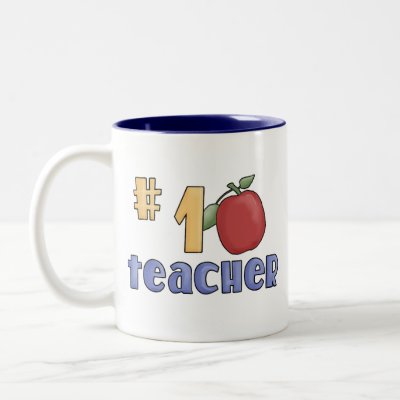 DO
Do think about pampering your teacher. She works hard! If you are willing to spend a nice amount (most likely for an elementary teacher that you just love...someone who is with your child all day/every day), you may consider a gift for a spa or salon. What teacher doesn't love manicures or pedicures or maybe even a massage?
DON'T
Don't give tacky Christmas decorations. You will not believe the weird and ugly Christmas gifts I've gotten. Once I got this giant angel that moved and I think it had music. You may think, "Oh, that sounds nice". Again, I was 24 or 25 and it looked creepy. Let a teacher buy her own Christmas decorations that go with her own style.
DO
Do think about personalizing stuff. I say this with hesitation, because some people don't understand what type of personalized things would be cute and which are tacky. Think about getting personalized paper, cards, or bags. One thing you could do is get a bag from
Thirty One Gifts
. I wouldn't have minded one of their thermal lunch boxes with my name or last initial. You could fill it with goodies too--gum, candy, trail mix, water bottles or soda. That would be a gift I could go for!
DON'T
Don't buy a teacher a football purse. Yep, that's right. I actually got a purse in the shape of a football. It was an Ohio State football purse at that. I had just moved here and couldn't have cared less about Ohio State football at that point. Even if I loved it (or it was a Packer purse), I am not going to carry around a football purse. Don't give specific gifts like this. Think more general. Unless you know that you know that the teacher would love that type of thing.
DO
Do get a little creative. You could make a date night basket (not recommended if the teacher is single!:) with goodies and a board game. Or you could get movie tickets or blockbuster gift card along with popcorn and soda. You could have your child decorate a flower pot and fill it with all the items to plant flowers or a plant of some sort.
DON'T
Don't send in homemade food. It's very iffy these days. Teacher's wonder under what condition it was made. Plus, people have allergies or specific tastes. It's a nice thought, but not really practical anymore. If you want to give food, you can think about giving Tastefully Simple foods, or put all the ingredients in a nice bowl to make a meal. Give the recipe and leave it to the teacher to make it (think theme!).
DO
Do know your child's school. Does the teacher have to supply all the things for her classroom? I would have loved to get quality children's books or a gift card to the teacher's store. I would never pass up stamp pads (scented preferred!:) or stickers. Heck, I would even have loved if someone stocked my treasure box with cheap, but fun items for the kids. Some teachers even have to supply the pencils, folders and crayons. One thing that has been HOT on the blogs is decorating hand sanitizer bottles and giving them as a teacher's gift. Again, I say know your school. My kids were to bring in a bottle of hand sanitizer at the beginning of the school year. We used it multiple times a day and I still had sanitizer bottles coming out the wazoo. I would not have liked a decorated sanitizer bottle. Other teachers (who may not get that supplied to them), may love it.
So there you go. A great guide to teacher gifting. I don't mean to come across ungrateful. I would have been perfectly fine to not receive gifts. There were many students over the years who didn't bring in gifts (for various reasons). But if you are going to bless your child's teacher... follow my guidelines. Please. (Your child's teacher can send a thank you directly to me!)